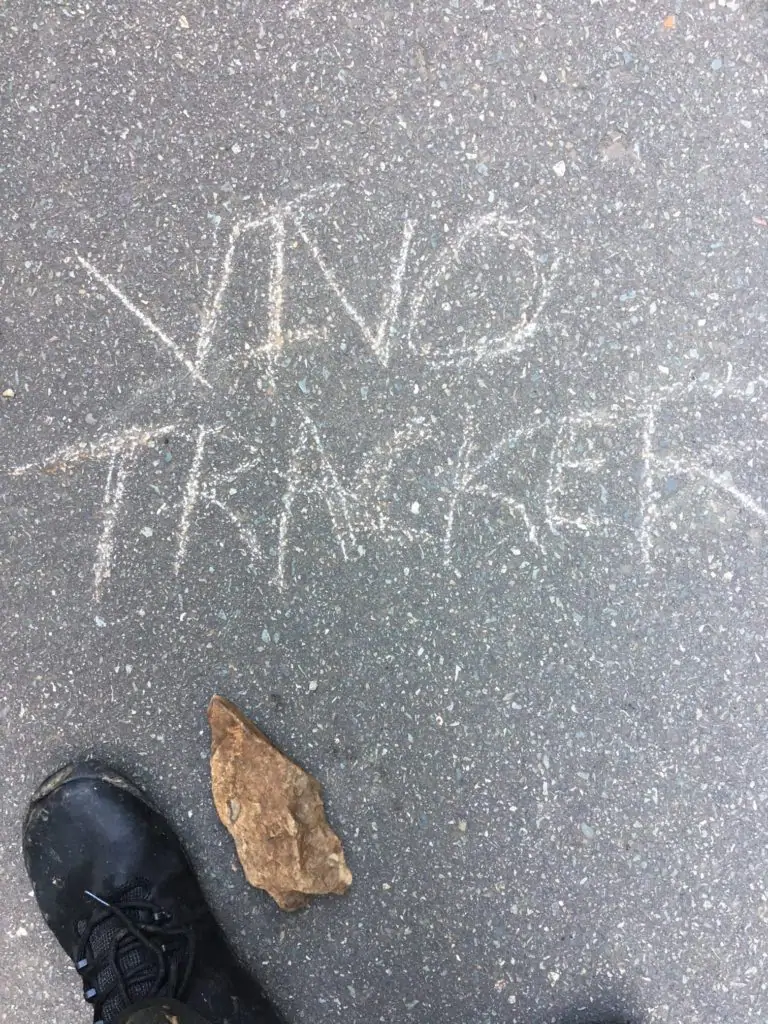 I can already see the comments here – "Sock Doc is wearing hiking boots." "Sock Doc is no longer barefoot in the wilderness." Yeah, yeah. No, I'm not suddenly wearing hiking boots, but I do finally own a pair of hiking boots, thanks to Vivobarefoot. The Vivobarefoot Tracker is definitely an awesome hiking boot, which could function as a work boot as many of you have been looking for. I'm always getting comments and questions from Sock Doc readers inquiring about something more substantial to protect their feet while they're either on some rough terrain, or they need to protect their feet at work (such as at a construction site, for example). So finally, yeah finally, there is a shoe out there and one that will not screw up your foot function or gait.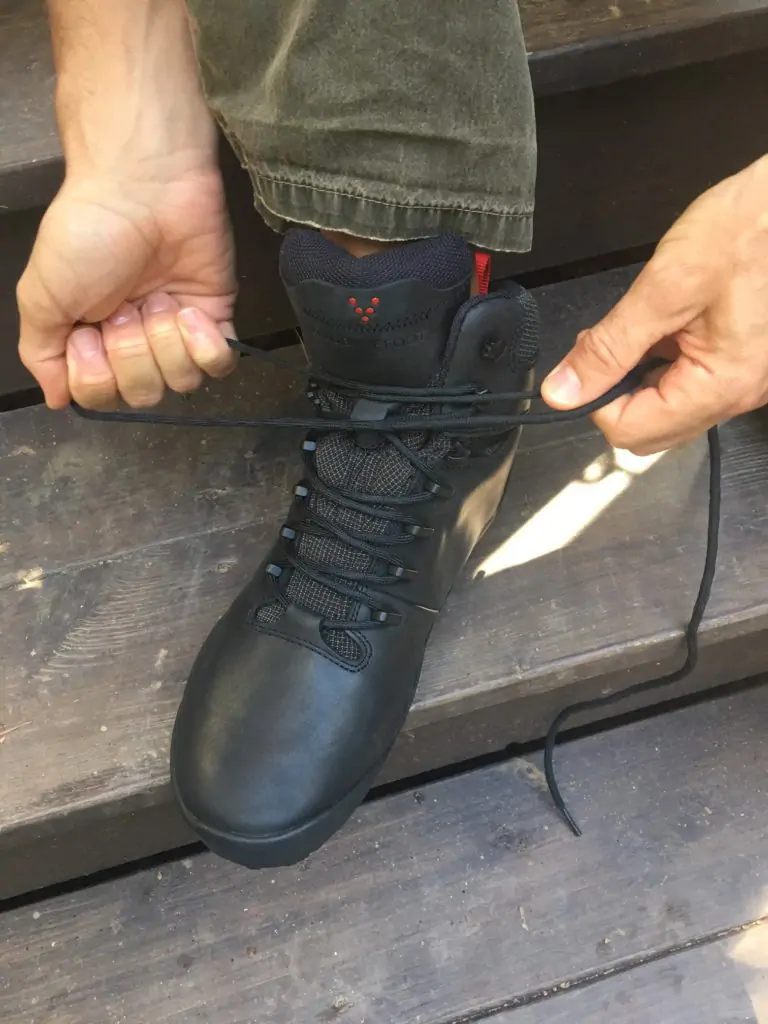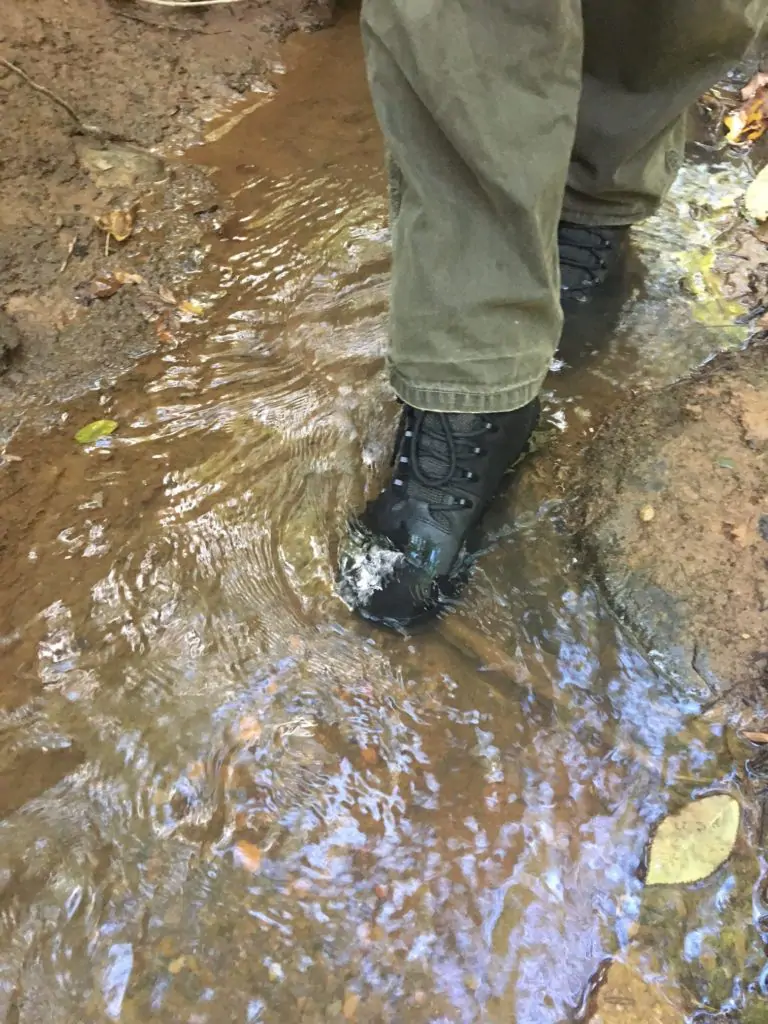 The Vivobarefoot Tracker is made from high quality leather and it's designed for "wild and rough terrains." With the waterproof lining and thermal protection your feet will remain warm and dry. Actually – correction – your feet might be too warm. After a good one hour hike in a local creek bed, my feet, fully submerged, stayed completely dry. In the 70 degree warm autumn day here in  North Carolina they were definitely very warm, even with the thermal 3.5mm insole removed. So I'm really looking forward to wearing these in the snow and cold temps this year! I was really impressed that no water leaked through, and you can see in the photo, my foot was deep in the water. From Vivo's website: "Heat sealed seams and / or hydrophobic inner bootie construction with non-absorbent materials, to keep the water out what ever the weather."
The outsole of the Vivobarefoot Tracker is their PRO5 patented, ultra-thin, puncture resistant layer. This has five times more puncture resistance than a standard sole of the same thickness. I'm barefoot most of the time and I appreciated that I could still feel the earth beneath my feet while wearing the Vivobarefoot Tracker, yet I felt very protected from sharp rocks. It's nice to be able to move quick over terrain, that when barefoot, you might have to be a bit more careful with so you don't tear into your skin. Those of you who are barefoot often know that there's always that one rock or stick pointing straight up from the ground waiting to poke into that tender area of your foot!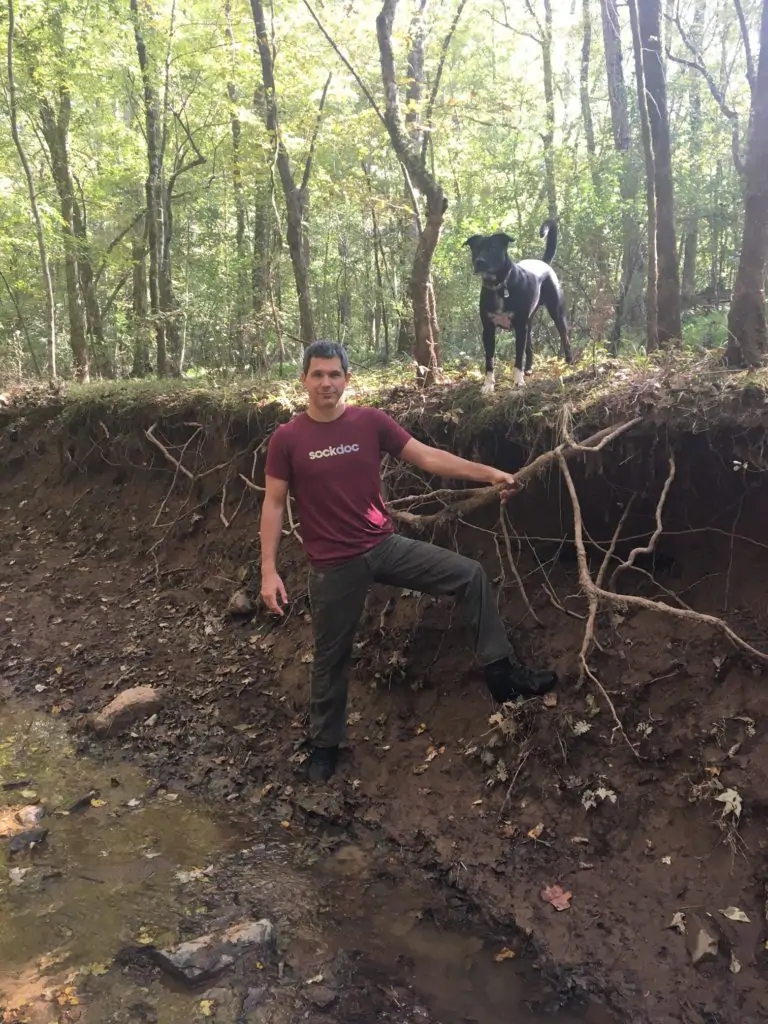 If you're looking for a hiking boot for some rough terrain, especially one where it's wet and cold, look no further than the Vivobarefoot Tracker. Like all Vivobarefoot shoes – it's flexible, firm, zero-drop, and let's your foot move naturally – even in this boot!
I don't get paid any money from Vivobarefoot for my shoe reviews, nor am I an affiliate. I just think they've got great shoes. (I did, however, receive the Tracker shoes for free.) If you're interested in injury prevention and optimum health and fitness as I am, then Vivobarefoot will fit your lifestyle. Less shoe is always more! Other Vivobarefoot shoe reviews here!