The Vivobarefoot Gobi marks my first-ever pair of casual boots,  and they've definitely exceeded my expectations. The Gobi is super comfortable, lightweight, and is exactly what I look for in a minimalist-type shoe – unrestricted movement and unaltered proprioception.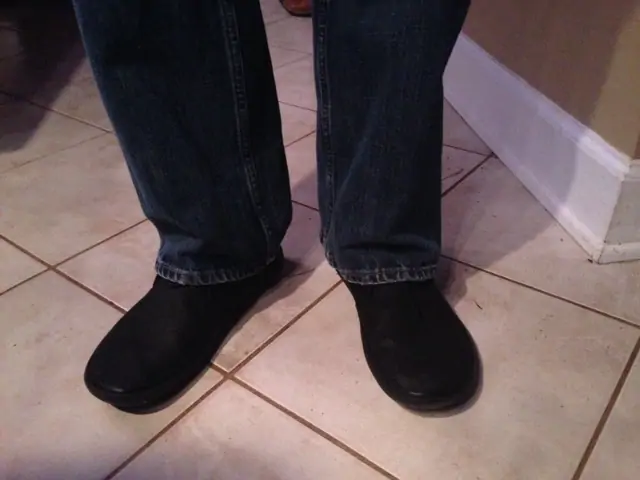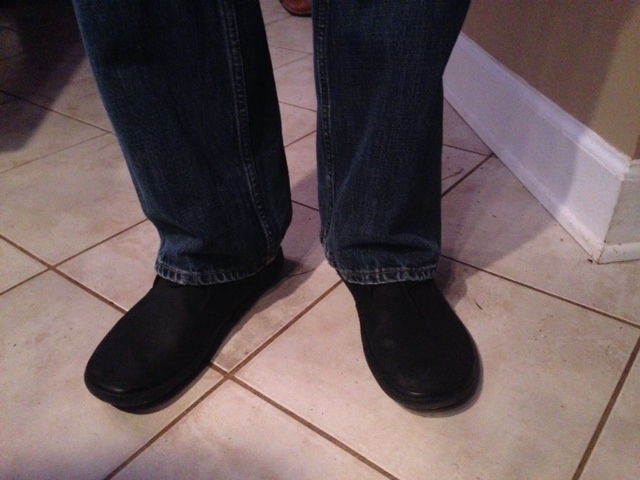 The Gobi is a fashionable shoe you can wear on many occasions, though if you wear them with tube socks and shorts you're asking to be made fun of. I've worn these desert boots with a pair of dress pants while in the office, (of course I take them off when treating patients), as well as with jeans for a night on the town. I've also worn them through some sticky North Carolina red mud, which is an experience in itself if you've been here. They were easy to clean and I won't make that mistake again, hopefully.
Yes, you can wear the Gobis sock-less, and I'd recommend doing so. I experienced no blister-causing friction wearing them barefoot and actually like them a lot more without socks. But beware, as with most shoes you choose to wear sock-less, you will most likely soon experience some smelly footwear. Taking out the thin insole (sock liner) will help with this odor and it will also allow you to experience a more barefoot feel of the surface below. Without the insole you've only got Vivobarefoot's 3mm puncture-resistant sole between your foot and the ground.
I really don't have any complaints about the Gobi perhaps other than they're not super-quick to put on, though this is true for most boots. The tongue is gusseted which keeps it from flapping around and also makes it so the boot hugs your foot more snugly. This is nice, but it also makes it so you have to loosen up the laces pretty well to get your foot it. So deal with it – it's worth it.
Vivobarefoot Sizes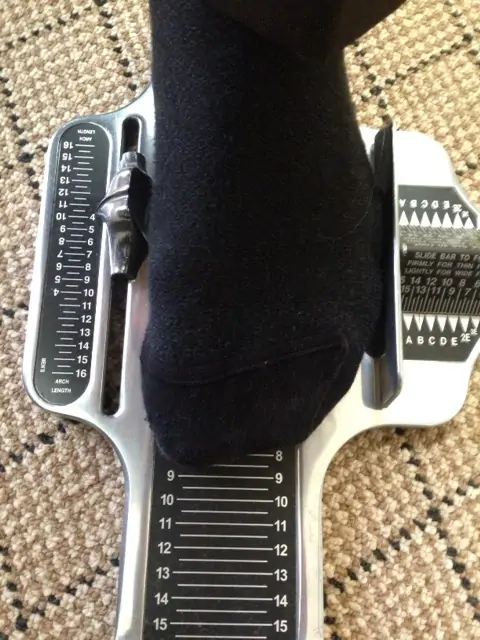 Vivobarefoot sizes are a bit unique which is one reason I keep a full line in my office for my patients to try on and see exactly what their size is. I wear a size 42 in Vivobarefoot and you can see by my foot in the Brannock Device I am right at the size 9. A 42 EU is a size 9 US,  yet you'd want to add at least 1/2 size for room typically. I wear a size 9.5 in Inov8, a size 10 in New Balance (Minimus), and a size 10.5 in Nike (Free). So be careful choosing your Vivobarefoot size or you may end up with a shoe one to two sizes too large.
The Gobi's will run you $160. Yeah it's a lot for shoes, but don't plan on trashing these during your next mud run. Are they worth the money? Yeah I'd say so but in full disclosure Vivobarefoot sent me these gratis, though I'm not giving them accolades just because they cost me nothing. Use the code sockdoc15 and get 15% everything at Vivobarefoot.com!
From Vivobarefoot's Site:
Style has never felt so good either, the Gobi stays true to our unique Pure Barefoot Technology principles and is designed and built to our high standards. Your feet will thank you for it as you'll be using them as nature intended.
Your feet will be able to behave as if they are barefoot in style and you'll get total flexibility from the soft and supple unlined leather. Giving you natural motion control by allowing your Great Toe to engage rapidly with the earth as well as independent rear and fore-foot movement.
The Gobi is built with your foot in mind; the toe box is nice and wide giving your toes the space they need. The ultra-thin sole is completely flat from heel to toe so your arch can function completely naturally.
Brain meet feet. The super thin 3mm puncture-resistant sole let's the feet receive all the sensory information it needs to inform the brain for skilful, natural movement. Rediscover your surroundings with the Gobi: the original barefoot desert boot.