I recently wrote an article called "Healthy People = Barefoot People" which discusses why barefoot people tend to be healthier than often-shod people and how/why being barefoot can improve your health. It's a good read – but hey, I wrote it, so of course I'm going to say that. Part of the reason for the article was also to discuss three important topics/questions that I get a lot. One – "If I'm not injured should I still get out of my over-supportive shoes?" (Answer = yes.) Two & Three – "How do I properly transition out of my current shoes without getting injured?" & "I started running barefoot and now I have pain, why?" (Answer = you're doing it wrong.) Since I posted that article about one month ago I'm still getting these questions so I think that I should have broken up that article and put the last two sections separately. So here it is along with some additional info regarding my shoe suggestions. If you've read "Healthy People = Barefoot People" and are doing well, then most of this is deja-vu, and you can skip to the end where I discuss those recommendations. If you're reading this first, great – but read "Healthy People = Barefoot People" next to really understand the concept behind why I think everybody should strive more the most minimal footwear.
Should You Venture Into Minimalism if You're Not Injured or Having Any Problems?
If you're not injured and could care less about performance should you get out of your traditional footwear or running shoes? Though many advise just to keep doing what you're doing I don't support that position. You will only truly be sure if your feet and other areas of your body are strong and healthy if you venture out of your footwear. If you have trouble doing so it's an indication that there is a problem you've been supporting just as if you were not having elbow pain every time you played tennis because you wore a brace, for example. Just because you don't have pain, weakness, or discomfort doesn't mean a pr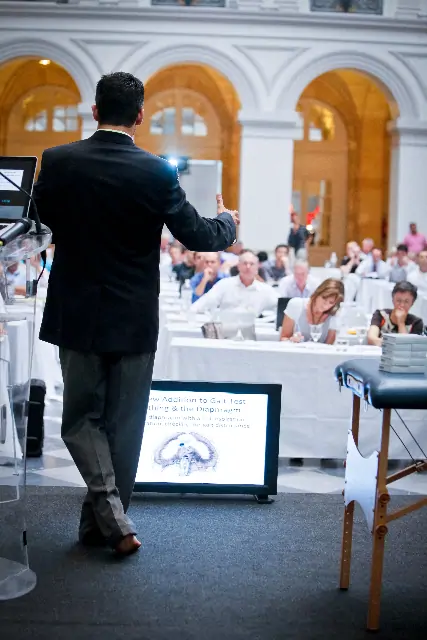 oblem is not there. Ask yourself WHY you can't be without your supportive shoes or supportive foot braces. This doesn't mean you go barefoot right away, but you should enter the realm of minimalism just to get an idea of where you're at. Stronger feet and lower legs and more body awareness are definitely possible the more you are barefoot.
A healthy individual can be barefoot, (baring some injury to the foot), and they can further improve their health, fitness and overall well-being. If you have a health problem or an injury, investigating the minimalist and barefoot approach may be an essential step in your recovery, and further prevention of that or another problem. Barefoot isn't going to cure a disease you may have – but it most likely will have a noticeable effect on your health and well-being. If you don't think it can have such a powerful effect, how do you really know unless you've tried it?

Ready to Make the Change? Transition to Minimalism and Barefoot Correctly

Yes, too many people are getting injured by switching from their current footwear to minimalist footwear or even barefoot. This gives the traditional medical doctor, podiatrist, or therapist reason to believe that humans today are not meant to be barefoot and we need to protect our feet with more supportive shoes. I get a fair share of hate mail from these people who think that because we don't live in wild jungles we need support on our feet to get through the day on our "unnatural" surfaces. Though of course I don't agree with this, the typical unhealthy person and/or person who has always worn supportive footwear or orthotics can't just make the shift so drastically. Many of them do, and they get injured, so these doctors and therapists see them in their office and rather than educate the patient on overall health (diet, lifestyle, and foot care), they convince them that barefoot is evil and humans need shoes all the time. This is pretty sad in my opinion, but it's the standard of our health care system.
You must transition to barefoot slowly and carefully, so you do not become injured. There is no rush! Start just by walking barefoot inside your house as much as you comfortably can. If that's painful then you can start with a minimalist-type "transitional" shoe and eventually work out of those to barefoot. It's okay and often advised to alternate between your current traditional shoes and a minimalis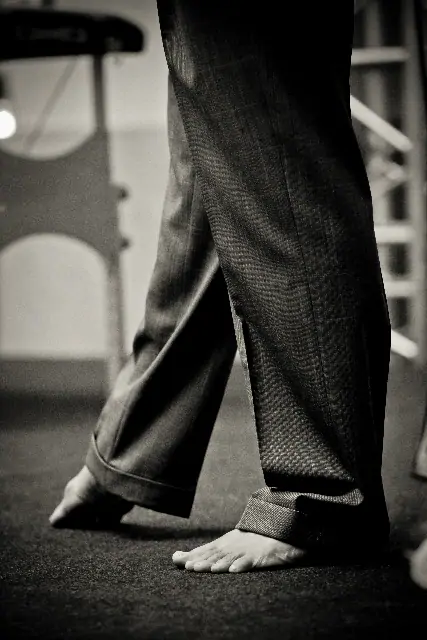 t shoe/barefoot if you have pain or discomfort. It's very common actually to feel tightness and some discomfort in the Achilles Tendon as it has shortened from years of wearing shoes with a high heel. So if you feel an ache in your Achilles then just be sure to rest it well and even go back to your current shoes as needed and not barefoot or in low-drop shoes until the discomfort subsides. If you're wearing orthotics, talk to your prescribing doctor about getting out of them so you can walk naturally again and not support your dysfunction. If that doctor doesn't think that's possible for you to rehab your feet in such a way then personally I'd find another doc, unless your situation truly warrants a supportive device (very rare). If you've been wearing supportive shoes with orthotics for years the transition is going to take time.
Once you can comfortably walk barefoot then work on balancing (one leg at a time) barefoot too for several seconds and then a minute or so at a time. Hard surfaces (tile, hardwood) are okay and advised!
Once you're walking barefoot and balancing well inside comfortably then venture outside onto hard, smooth surfaces such as your driveway. Slowly build up time as you comfortably can. Eventually make your way to other surfaces such as grass and gavel. Of course make sure these areas are safe to walk on. If barefoot is bothersome to you outside then use a minimalist shoe at first.* Remember that different shoes work for different people!
Once you're walking barefoot outside comfortably then try a bit of barefoot running on a flat, hard surface – not too much at first or you're likely to develop sore feet and calves very quickly! If you're not a runner then a minimalist shoe will be more appropriate at first or you should just stick to walking. If you don't want to or don't like to run outside barefoot then that is perfectly fine. But do your best to get into a minimalist shoe or "barefoot style" shoe. Continuing to walk barefoot outside, and especially inside, as much as you can, is advised.
Watch the Sock Doc Video on how to properly strengthen your feet and lower legs.
Proper Shoes For A Healthy, Fit Body
If you're a runner or avid walker then while introducing this barefoot program into your daily routine you should also be transitioning out of your current "necessary" footwear into minimalist-type shoes. Think flat, firm, flexible, and wide. This means that the shoe should not have a significant, or any, heel to toe drop, (if you're coming from a thick heel you will not want to go to a zero-drop shoe immediately), there should be little to no cushion or padding in the sole, and the shoe should not be rigid anywhere – it should bend throughout the shoe and in any direction. The shoe should also be wide at the toe box allowing the toes to naturally splay apart.
Finally, don't go back to your old shoes! The only unfortunate nuisance of being barefoot and wearing minimalist/barefoot-style shoes over time is that the typical shoes you were wearing will soon be very uncomfortable on your feet and you'll need new footwear. Even a 4mm drop may be uncomfortable to an often-barefoot individual. It is for me.
Some Transitional and Barefoot-Style Shoe Suggestions
As of Spring 2013, these are the most common recommendations I give to patients for footwear, and where I see the most success.
"Transitional Shoes"
New Balance Minimus Trail MT10 (not the Trail MT00). This is a 4mm drop (15-11). Great for the road and most trails. This is the most common shoe I recommend even if you never go on a trail.
Nike Free 3.0 v4. More cushion than the NB Min Trail. Same drop but more stack (21-17). The v4 (version) is not as comfortable as the v1 – but thanks to Nike that's all you can get right now; hopefully v5 will improve? The Run+ 3 is even more cushion/stack if you need it, and an 8mm drop (23-15).
Saucony Kinvara. I personally don't like these shoes; I think they're too stiff and shouldn't be called minimalist. But several patients I've seen have had success with them. So if you're going to use them, work your way out of them as quick as you can. Only a 4mm drop, but big stack (23-19).
"Minimalist and Barefoot-Style Shoes"
New Balance Minimus MR00 (WR00 for the ladies). This is NB's newest road shoe that is zero-drop and a stack height across the bottom of 12mm. Though I wish it was a little less material, it is what I run in on the roads currently unless I'm barefoot.
Merrell Road (and Trail) Glove. With an 11mm and 10mm stack respectively (zero-drop), the Merrells are a popular barefoot-style shoe. A lot of people, including myself, feel they are too narrow and unstable; but many like them. Worth a try.
Vivobarefoot Shoes. Can't get much more minimalist than Vivobarefoot. See some of my reviews here. I run in the Breathos on the trail, but haven't run in their road shoes too much anymore as they are very "floppy". I like (love) the Evo for walking and the Ra and Oak dress shoes for work. My kids wear their boots and shoes too when they're not barefoot.
Vibram Five Fingers. These are the toe shoes everyone knows about. I personally don't recommend them to my patients as there are so many other zero-drop "barefoot" type shoes now available and I see no need to separate the toes via footwear (but practicing toe splaying on your own is a good thing to develop).
Inov-8. I've recently began running in the Trailroc 235 and like them a lot. Very similar to the Vivobarefoot Breatho but more a more solid base (the lugs aren't as narrow) and the shoe fits more snug at the heel; 13mm stack. I also just began wearing the road 138 model; what a great shoe. At only 7mm stack height (zero drop), they're much more minimalist than the NB zeros. Currently the 138s are my favorite road shoe.
Other Shoes/Sandals
Altra: Roomy and comfy zero-drop shoes good for a wide foot.
Lemming (formerly Stem): Zero-drop trendy casual walking and everyday shoes.
Sandals: Hey, you don't always need a covered foot. Luna Sandals and Invisible Shoes are what we wear and I recommend.