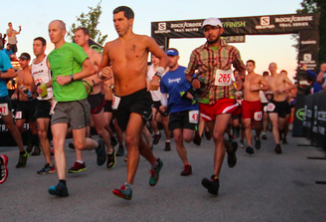 In today's endurance world, covering longer distances has become the new and expected normal. Gone are the days when racing a fast 5K or 10K meant something and we're even starting to lose the concept that running one marathon is a big deal. Yet much like triathletes feel it's imperative to race an Ironman as soon as possible regardless of one's current fitness level, trail runners are viewing ultras the same way – the more distance the better. But for most, more training and racing eventually leads to poor health and even lowered fitness levels.
More Isn't Necessarily Better
How much is too much when it comes to training and especially racing? Well that depends on you – the individual – and what your body is capable of handing in regards to the stress demands you choose to put yourself through. As I've addressed in the Sock Doc Training Principles, the more frequent and the more intense your training, the more you need to rest and recover. For most competing in long distance events, such as marathons and ultras, recovery is going to be affected by the demands of everyday life. Most athletes have work, family, and other life responsibilities beyond training and racing. Simply put, if your only job isn't to train and race, then you're already at some disadvantage because your recovery (and training) time and energy are required elsewhere.
Many endurance athletes are Type-A personalities who excel in what they do outside of racing. They work long hours and have active families. These athletes are already stretched for time and energy resources, and they're often lacking proper sleep and recovery. So when they add in more and more distance, it quickly can, and does, take its toll on the body.
How Much Distance Can a Body Handle?
Professional athletes are more likely able to handle longer distance events more often than amateur athletes. The time commitment to properly train for these events is huge. Unfortunately, many athletes today do not put in the necessary time needed to train adequately for these events; yes that includes recovery. Running a couple short distances during the week and logging in some massive miles over the weekend doesn't teach your body to adapt properly to cover distances in a safe, efficient, or fast manner. At best you'll get fit quick enough to race the distance while most likely having to deal with some nagging health and injury-related problems along the way, or soon thereafter.
I've been in the endurance racing scene since the early 1990s. Back then, (and sorry if I sound like your reminiscing grandpa), there weren't marathons or ultra-distance events every weekend, or even every month. You trained for the one big long distance event of the year, and for many that was a race lasting a few hours. In my opinion, I don't think it's just a coincidence that during that era we saw athletes such as Mark Allen and Paula Newby-Fraser win the Ironman World Championship multiple times (six and eight respectively). They weren't racing big events throughout the year as athletes are doing today, and part of the reason they weren't was because those events just weren't available. But now these events are, and with the increased amount of endurance events we are seeing more athletes racing more often and ultimately they inevitably break down and their careers end way sooner than anticipated. You can only race so fast, so often, for so long. So next time you think you're not performing well because of "old age" perhaps consider you're not training properly, and that could mean you're just training and racing way too much.
Humans Evolved to Run, Not Race
I'm all for endurance racing, but I'm more for training properly and racing to the point where your health doesn't suffer permanently. I say permanently because running these types of races too often can result in permanent injuries and health problems. Yes, being outside and active for long periods of time often is very healthy, not just for your body but for your mind too. But when you ramp it up to the point of trying to get from point A to point B at a pace above a certain threshold, (defined by each individual's fitness level), then you're inversely affecting your health. Many athletes are training improperly to the point where they are chronically affecting their health in a negative way with more and more training.
If we look back to how humans are thought to have developed as persistence hunters, we see that our hunter-gather ancestors didn't just run hard for hours upon hours to track down their food. They tracked their food at a slow, aerobic, fat-burning pace rather than pushing their bodies hard for prolonged periods. Now sure I'll entertain the idea that there were some stellar human athletes back then, (probably more than there are today), and they could perhaps comfortably cover ten miles of harsh terrain in an hour or so. But just like the small handful of elites today, they are just that – the minority. Humans aren't evolving in the same linear fashion to run these longer distances faster and more often. I've discussed previously that for elite marathoners running a sub 2:30 they are most likely creating less damaging stress on their body than the average amateur running a  four to five-hour race. It's all about how efficient you are and how quickly your body breaks, (or doesn't break), down.
Breaking Down Your Body
Everybody has their breaking point in a race. If you're healthy and you trained properly and follow your race plan (pace and nutrition) then ideally you won't break down until the very end of the race, if at all. I define this point of breaking down when your body no longer can keep up with the demand you are placing on it and muscle imbalances begin to occur. Your muscles will be affected by the stress placed on your nervous system which is constantly monitoring each and every system in your body – particularly your digestive, hormonal, and cardiovascular systems when it comes to racing.
How do you know when you're starting to break down? It's happening way before you bonk and even before you start to feel fatigued. Little signs such as misjudging a rock and almost tripping is a good way to tell you're starting to falter. A tight muscle that comes out of nowhere – say in your calf or maybe a side stitch – more signs of your body fading. A change in your gait is also another huge sign of a broken athlete as gait is so closely influenced by glucose regulation, yet you might not realize this until you literally fall or see a photo of yourself and see an altered posture.
The problem with breaking down is not just a loss of performance but also impaired health. Oxidative damage (from excess free radicals), inflammation, and high levels of stress hormones (particularly cortisol), go hand-in-hand with racing hard (and for many training hard too). The more you train broken, and the longer you race broken, the more you run the risk of not just injury and illness but also other health problems, particularly immune system issues such as auto-immune diseases and yeah, even cancer.
Plan For the Big One
Yup, I threw out the Big C there in that last sentence because chronic stress will slowly but surely take its toll on your immune system. It may take years for you to realize the negative effects of training too hard, too often, and racing too long, too often, but it will eventually catch up with you if you don't balance the intensity and duration with rest, recovery, and the adequate fitness necessary to train at these high levels.
If you want to safely participate in long-distance events then you have to put in the time and effort to build stellar aerobic endurance. The longer you train and race in a fat-burning mode the less likely you are to break down resulting in better performance. Once you build your aerobic fitness, (which can take years for most people), then you can add more and more distance, to a certain extent, to take your fitness to the next level without compromising health.
Don't get sucked into racing such long distances so often, especially early on if you're new to the sport. Ultras require a high level of fitness as well as mental stamina which takes significant time to develop. Personally, I think that one race a year over 50K is more than most can safely handle, yet we hear of so many doing multiple centuries. Ain't nothing wrong with going shorter. Speed and strength are healthy attributes every human should have to some degree, let's not forget that.
There's more to this game than just being effective (covering the distance and finishing). You want to be an efficient human athlete which means you can cover the distance in a manner where you can still function the next day and next week and you're better for it all around – mentally and physically.