Sock Doc Training Part III: Strength Training – Do It. But Make It Work For You
Training is not just working out – but working out PLUS rest. The harder you push your body, whether via distance training, intensity, or strength conditioning, the more you have to rest to recover. We all know about the benefits of quality recovery – sleep, active recovery, as well as a healthy diet and what I like to call the aerobic lifestyle. Essentially, the less stress you're under in other aspects of your daily life, the harder and longer you can train. If you're parenting some kids (or kid) during the day, eating poorly, and not sleeping well, then you're living a less aerobic or more anaerobic lifestyle and that means your training will be compromised. To account for this, I've changed the way I look at the training equation; here's the new Sock Doc formula:
 Training = (Working Out + Daily Stress)/Rest & Recovery
You can see from this new formula that the more external daily stress, (work, family obligations, & poor diet, for example), you have in your life, the more it will affect your training, and the more rest and recovery you will need. Many athletes do not take into account their external stresses, so they get injured, sick, or underperform. You can handle longer workouts, be it a long run or a long power session, more often if you're under less stress. You can obviously handle those more if you have more time to rest and recover. So the idea here is to try to reduce or eliminate as much external stress as you possibly can while also making sure you are recovering and resting efficiently.
I like to tell patients to "fix what you can fix." This means there are some things you can change in your life, and some you cannot at this point in time. For example, everybody can change their diet. You can reduce or eliminate refined carbs, unhealthy vegetable oils, caffeine if you need to – things like that. Dietary changes have huge impacts on a person's life – not just their daily activities but their workouts and their sleep too. So it's a great place to start. No need to go into that more here; there's plenty of info on this site to help you address your diet but just remember that diet is huge when it comes to training properly; it's a significant factor in the recovery part of the equation. The healthier your diet, the faster you'll recover, and the more your body can handle working out and daily stressors. If you need to know where to start – check out the Sock Doc view of the Paleo Diet.
Daily stressors such as work, family, and other daily obligations can perhaps be changed to some degree to lower your overall stress load. Many may like to tell their boss at work what they really think but it's not often the best idea. So you fix what you can fix. Maybe you can adjust your commute to work or how efficiently you work, freeing up more time and thus lowering your stress. This in turn makes your life more aerobic so you can handle more of other types of stress – such as the stress of anaerobic workouts. And yes, the less rest your body will require.
Rest and recovery means actual rest such as sleep but also active recovery. Sometimes a very easy aerobic exercise such as an easy run or balance work is much better than just taking the day off and lounging around. I think we should all be moving every day – "exercising" every day. This is not plausible for everybody, and as addressed in Part II, various forms of exercise and intensity need to be taken into account.  Even just walking can be considered active recovery. Do some bear crawls (MovNat training) to mix up the walk (depending on where you're walking), or do some squats and one leg balancing while you're brushing your teeth. One of the many reasons I like MovNat so much is because it can be scaled towards anyone's training. Balancing and barefoot running (or walking) are great on easy days with lifting, throwing, climbing, and carrying heavy objects left for harder days.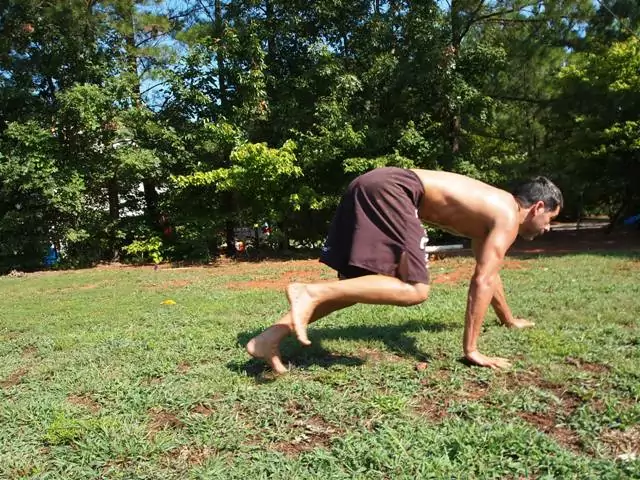 Sleep of course is a major factor in recovery and as the equation states, the more working out and the more stress you're under, the more rest you will need. The obvious problem here is that often the opposite occurs. The more someone trains the less they sleep – or the less they're able to sleep. This is especially true for those who are under a lot of stress – they sleep less and not as well most often due to spikes in cortisol throughout the night. My sleep article addresses several sleep conditions, but essentially dealing with daily stress, including dietary stress, will lead to better sleep. This, as you can see, has multidimensional ramifications because the less stress you're under during the day and the more healthy your diet is, the better you sleep – all leading to more productive workouts.
Health First, Performance Second
Health and performance (fitness) are often closely associated with one another, though they shouldn't be so closely intertwined. Health is not just the absence of some known disease, but your entire body functioning without any problems – that means your body is free of aches and pains, has abundant energy, and your mind is sharp and clear. A healthy individual isn't injured, constantly sick, or sleeping poorly. Your impression of this may be that nobody is healthy. The fact is that a lot of people aren't very healthy, but they may be very fit.
As you become more and more fit your health should also improve, and vice-versa. If you change your diet and lifestyle for the better you will see some positive changes in fitness. You will move more efficiently when you're healthy and you'll naturally be more fit. Unfortunately as many become more fit their health suffers, because they are stressing their bodies out too much (anaerobically) or not recovering properly. This excess anaerobic syndrome is the same one that many link with chronic, damaging "cardio" as discussed in Part I. Most train too much, too hard, and since the majority of us aren't professional athletes, we don't get to rest and recover as much as we'd like. Overtraining is easy.
Those who only do hard CrossFit workouts and the chronic anaerobic endurance athletes are not very healthy. When the vast majority of workouts are cortisol inducing activities the body will break down because there is not enough time in the day to recover.  Although that professional athlete may last longer when they have someone training, feeding, and managing their schedule it eventually catches up with them.
So whatever training program you want to support, or bash, remember it all should come down to two things – what you're trying to accomplish and how it affects your health. Too often these two parameters do not complement one another. I unfortunately see way too many injured and unhealthy "athletes" who are training for or have just competed in a half or full marathon. The general public conception is a misconception that these athletes are healthy. Far from the truth.  (More on this in Part V.) A similar situation of being fit but not healthy occurs with those who only do some hard weights and sprints a few times a week as their only workouts.
Overtrained, Under Conditioned, or Under Rested?
"Overtraining is not possible, you're just under conditioned." I remember first hearing a statement like this during the 2006 Tour de France by Floyd Landis, who of course was later disqualified for doping.  It's the "glass half empty, glass half full" idea. Whether you think overtraining is a possibility or not, is up to you. I understand some now use the term "overreaching" which is when one is pushing themselves too much and performance is starting to plateau or suffer but they're not in the full blown stage of overtraining. Call it what you like – overtrained, overreached, under conditioned, or under rested – if you're in any of these categories you're doing something wrong.
Injuries typically don't come out of nowhere. Sure, there are exceptions – traumatic accidents for example. You may step in a hole while running and sprain your ankle. You may slip while performing a lift. If you're playing a contact sport you're obviously at risk. But the majority of injuries that occur do so because of muscle imbalances as a result of some stress to the nervous system. This is the forte of Sock Doc, and how I am able to address injuries and health problems faster than most could ever expect. Dietary stress, hormonal stress, emotional stress, and physical stress (past unresolved injuries, improper footwear, orthotics, and yes, even harmful [static] stretching habits) all impact the nervous system causing imbalances in the sympathetic and parasympathetic system which in turn results in patterns of muscle imbalances. It's these muscle imbalances that cause injures, either locally or elsewhere in your body – especially if they affect how you move (your gait).
So yes, you could be under conditioned to perform a certain activity and end up with an injury. This happens if you're training at too high of a heart rate too often and for too long and never developed your aerobic base. It'll also happen if you're lifting too much weight too often without sufficient recovery. It could happen if you're not incorporating any, or very little, aerobic activity into your daily routine. And it can happen if you're doing too much aerobic and not incorporating sufficient anaerobic endurance or strength into your training.
When you're injured (or ill), you're forced to rest. So it's important to realize some of the warning signs of overtraining – or under conditioning. Read up on them so you can back off and adjust before it's too late.
Sock Doc Training Part V: That Marathon May Kill You?