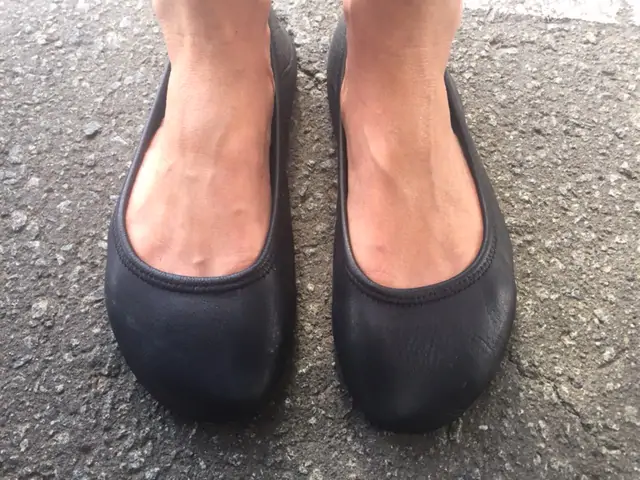 Soft Star continues to supply Sock Doc and Family with some awesome footwear and this time they sent my wife a pair of their Soft Star Ballerine Flats.  So she writes: "They're a really soft and comfortable minimalist shoe. I don't find many shoes to be very comfortable anymore since I have become accustomed to going truly barefoot but these shoes are comfortable enough to wear all day long. They have a wide area for the toes and yet don't make my narrow foot look lost in the shoe. The shoes are lightweight and easy to pack or toss in a bag so they're there when I need to put something on quickly. I wear them casually to run errands and they are elegant enough to wear for an evening out."
The Soft Star Ballerine's have a stretchy trim on the front and sides to not only secure the shoe gently to your foot but it makes them easy to get on and off. The Vibram 4mm sole provides just enough traction and protection and after they're on for a while you'll feel barefoot (so I'm told). 🙂 Check them out and add them to your shoe collection for when you have to throw something on that's quick and comfortable and sandals just won't work.
Make sure you watch the video "Ballerine Sizing Tips" on their site as the Ballerines fit a bit tighter than their other shoes. She had to go up one size. As with all Soft Star shoes, they're handcrafted in USA from premium domestic leathers. That's hard to find today. Their customer service is awesome too! It's so easy to get a real person on the line.
Also check out my Soft Star Youth Swift Review and my DASH RunAmoc Shoe Review.