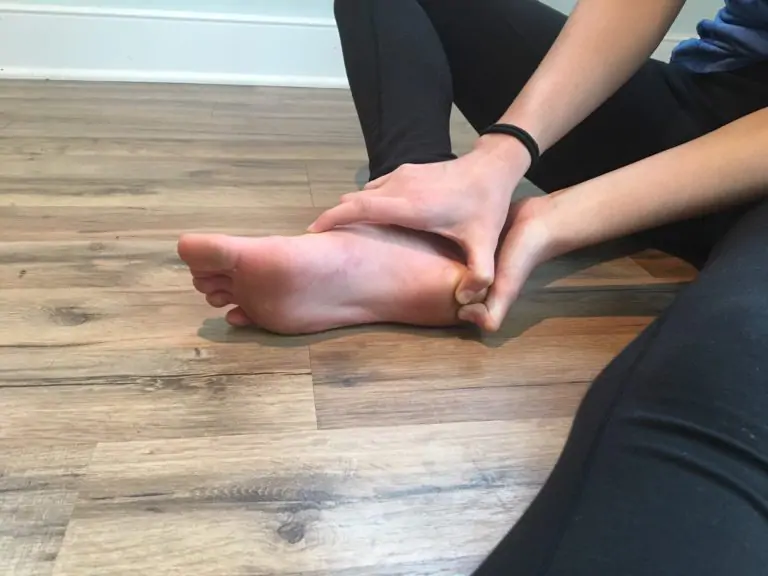 It's just your imagination – this pain that you or your trusted practitioner has diagnosed as "plantar fasciitis" – because it's impossible to have such a problem where there is just no fascia in the body! Ok, it's not in your head, and naming an injury doesn't by any means explain why you have the problem in the first place, let alone tell you how to go about correcting it, even if the name is completely wrong. You see, this area we've been calling "fascia" due to the connective tissue aspects of that tissue located on the bottom of your foot from your heel to base of your toes is really not fascia, but what's called aponeurosis. An aponeurosis is a tendinous tissue expansion connecting muscle (in this case primarily the muscles coming from the lower leg), to the parts which they move (in this case the foot). This band of fibrous connective tissue can become problematic resulting in pain – maybe acute pain (i.e."fasciitis" or "aponeurositis") – or a chronic degenerative condition (i.e. "fasciosis" or "aponeurosis-osis?").
Now that I'm through being grammatically and anatomically correct let's actually get to what's important – why your foot hurts and how to go about fixing it hopefully once and for all. Also, to sorta completely undo what I just said I'm going to go back to using the term plantar fasciitis. Why would I do this if it's completely the wrong name to call it? Two simple reasons: 1) It's what people still call it today and what they understand; nobody is talking about their aponeurositis. 2) This is a website, therefore I have to write according to the laws of Google so it, and all of its web-crawling bots, can see, identify, link, and properly score this article as something of value. People search for terms with the words "plantar fasciitis." So it's as simple as that; call me a sell-out.
The Muscles Involved With Plantar Fasciitis

Plantar fasciitis (PF), is when you have pain due to something wrong with that connective tissue on the bottom of the foot. Though typically in the heel region, it can be painful in the arch, or close to the base of the toes around where they bend. So since we're talking about connective tissues, we have to look at where this connective tissue comes from, as that will help us identify and treat the problem successfully. The two muscles I find to be most important in PF are the tibialis posterior and the soleus.
The tibialis posterior is a long sheath of muscle running from the upper part of your lower two leg bones (your tibia and fibula) all the way down to the inside of your foot into your arch and throughout much of the foot. It is significantly involved in proper foot pronation and ankle supination. Yes, your foot needs to "roll inwards," or pronate during your gait cycle, especially when you run. Check out the plantar fasciitis video where I show the trigger points to look for along the tibialis posterior as like most ailments you have to look distant to where the problem (pain, in this case) is felt. So don't mess around directly with that pain in your foot. Also note, as I show in the photo here, that if you have a fatigued tibialis posterior muscle you might lean towards the outside of your foot when you're standing for a bit.
The soleus is that calf muscle right under and below your gastrocnemius, the upper and thicker calf muscle. The soleus eventually makes up that one tendon that everyone has heard of, the Achilles tendon. That soleus travels down into the tendinous attachments into your foot (yes, the aponeurosis). If your soleus isn't functioning well you can get anything from shin splints, Achilles tendonitis, heel spurs, Morton's neuroma, and plantar fasciitis. If your soleus is more of the problem you might feel more pain pushing off (plantar flexion of the foot), walking tippy-toes, and climbing stairs. Again, check out the video for trigger points for the soleus. Also, soleus problems can sometimes cause deep knee pain where tibialis posterior problems can cause medial (inside) or lateral (outside) knee pain due to its influence on lower leg rotation. Let's move on.
Check out the new Sock Doc Plantar Fasciitis Video to see exactly where these muscles are.
The Reasons for Plantar Fasciitis
There are countless reasons for PF and no, it's not a "runner's problem" or an "overweight problem" or a "high arch" or "fallen arch" disorder. PF is essentially from one thing that results in many health problems from pain to many diseases – stress. Of course, saying something is from too much stress is sort of a cop-out because although not necessarily incorrect, it is rather vague. But, as I discuss many, many times throughout the SockDoc site, your feet are a great reflection of stress. In the case of PF, your feet are likely telling you that you are not handling your stress very well.
The tibialis posterior and soleus muscles are two muscles that are closely clinically related to respond to excess stress. The muscles will fatigue (weaken to some degree), resulting in perhaps a foot ailment (PF), or maybe a gait imbalance (and therefore sudden back or hip pain), or maybe some ailment like Morton's neuroma since those nerves have to go through that "fascia" – or whatever you want to call it.
Plantar Fasciitis Natural Treatments

So if you're too stressed out, whether from too much training (running, walking, lifting, swimming), too little training (sitting, sleeping, not moving), a poor diet (excess sugars, caffeine, refined inflammatory oils), emotional stress – or whatever the case may be – you just might end up with PF. Therefore, the way to really address the cause of the problem is to address that stress (or stressors) to help heal your PF, regain your health, and hopefully prevent your problem from returning.
But when you're injured, local treatments are necessary as they'll help speed up recovery and in this case, get you moving along since you'll probably want to move using your feet. Just a guess on my part. So go get you a nice pair of orthotics (I'd recommend spending at least $499 on a pair, plus doctor visit), and put them in some super supportive shoes with at least a 24mm stack height – these will also make you look taller, helping you to make more friends.
Of course, it's just the opposite here on SockDoc where plantar fasciitis natural treatments prevail. Orthotics will only, at best, temporarily "improve" your pain as your foot dysfunction only becomes more of an issue as your gait mechanics are further distorted and you "just somehow" have another injury in a few months or years later. Supportive shoes will do just the same – they support poor function (dysfunction), poor mechanics, and poor foot health. However, if your foot is just killing you, even to just stand on, some cushion is probably a good idea so you're not in pain as you move through your day as pain is not only going to increase your stress level, but it will most likely cause more issues as you alter your gait to move away from the pain. So cushion a little, but don't "lift" too much. If your soleus is the reason for your PF then you'll feel better by shortening the Achilles tendon and that can be accomplished with a bit of a heel lift – 2-4 mm at most – not 1-2 inches, and just until you're out of distress. You might consider equalizing the other side too, even if asymptomatic. Let's not create new foot problems.
Check out the new Sock Doc Plantar Fasciitis Video to see how to treat these muscles using simple trigger point therapy.
Preventing Plantar Fasciitis
Preventing injuries involves integration of the health of your entire body, not just one part. So that's back to stress – eating well, sleeping well, training well, etc. Just spend a few hours or days on sock-doc.com or drgangemi.com! (Not to increase your stress, but to understand how to live a more healthy life – just want to be clear there.)
To help prevent PF and other foot problems you've got to of course look towards the feet to some degree too. Strong, supple, healthy feet! The easiest way to begin to improve foot health is to be barefoot as much as you comfortably and safely can. No, don't go running barefoot if you've been wearing shoes all day long, but start by moving around barefoot in your house, little by little. Read "Healthy People = Barefoot People" to learn more.
There is so much more to say about PF but I've said it before many years ago and it still holds true today. So check out my original plantar fasciitis article, as well as my original plantar fasciitis video and note that I still look exactly the same seven years later!
As always, thanks for spending your time on the SockDoc site. You're better for it, and hopefully with this understanding of the importance of plantar fasciitis natural treatments your "fascia-aponeurosis-itis-osis" will soon be a thing of the past.