Nobody wants to be injured and if you're injured you obviously want the injury gone as soon as possible. Properly treating an injury involves more than just looking at the symptom, which is usually where the pain is felt. You have to understand why you're injured to properly assess, treat, and prevent that injury and any other injury from occurring again and that can sometimes be hard to figure out on your own. We live in a symptom-based treatment world which relies on outdated, unproven, and often harmful therapies. Combine this "professional" help with the loads of advice out there, (yes, including Sock Doc advice), and you're left with wondering what to do and who to trust.
One of the most common questions I receive is from an injured athlete asking me what they should do for a certain injury. So many people are injured though the majority of them can be avoided. Of course there are exceptions such as accidents – sudden trauma to your body maybe from tripping over a rock while running or some jackass taking your flag football game way too seriously.
Ideally what you should be doing for any injury you ever sustain are some specific therapies and lifestyle adjustments which are individualized for you and only you. That means your plantar fasciitis may need a trigger point addressed on the back of your upper leg and you may need to change your training by easing off the anaerobic workouts. Someone else with the exact same symptoms may have a trigger point by the arch of their foot and they need to change their running shoes. Another with the same injury may not even have a trigger point but their foot pain, though the same as yours, is a result of four cups of coffee a day and working twelve hours, six days a week.
But of course we all can't have individualized treatment. So the information I provide here, which of course is typically the opposite of what many are told, is meant to cover the most common findings which are present when there is an injury as well as assessments and harmless treatment options you can try yourself. In my office, there's a whole lot more I do when I see someone with an injury; but I also use the very same therapies and principles I discuss throughout the Sock Doc site.
So you want to take care of yourself, and use the advice of others as you see fit. Of course you don't want to be foolish and end up trying to assess and treat your own injury only to realize weeks later you had a broken bone or something even worse the whole time. But it also doesn't mean that if you turn an ankle you run over to your hospital to have an X-Ray, CT scan, and MRI lined up the next day.
The point here is to be smart about your injury and think about why you got injured and what is going to make the most sense to you and given your situation. I'm not here to convince you of anything; I'm sharing ideas, knowledge, beliefs, and experience gained over many years. You can take or leave anything on the Sock Doc site. But if you choose to learn this different approach and give it a go, you have to give just more than a "try". This isn't some program where if you don't get better in a day or two then you head back to your old ways. Regardless of how you respond, I encourage you to consider and learn perhaps controversial and unorthodox methods for the prevention of injuries.
Conventional vs. Natural Methods: Risk vs. Rewards
The natural assessment, treatment, and prevention principles and therapies which I discuss come with zero downside risk, that is as long as you're doing them correctly. In other words, if you're working a trigger point on your Achilles tendon and it's becoming more and more inflamed then that is a problem. But if you're doing such a thing then you're not only doing the therapy wrong, (as I often say stay off the injured area), but you're also not listening to your body. You should either see improvement or at worst no further increase in symptoms when applying any therapy. Some next day discomfort, but not pain, is sometimes normal and expected.
Conventional therapies come with risks. The common "go-to" methods of stretching, bracing, icing, and drugs such as NSAIDs rarely, if ever help. But many (most) continue to use them despite the fact that they often cause more harm than benefit.
Some will tell me they feel better stretching but that's often because it's providing mechanical stimulation to the area of pain and temporarily damping that pain. It's not correcting anything and actually will delay healing. Same goes with ice – it's great for pain reduction but not if you want waste products removed and healing nutrients and blood circulated to the injured area. But we love to ice and stretch. Think you're an exception to this rule? I don't.
And of course many take the anti-inflammatory drugs every day or for every injury. These are still provided in many major races (often endurance type) despite the fact that we know of their impact to health. Not only will they tear up your gut perhaps to the point where you have fecal bacteria in your bloodstream but they slow down connective tissue repair. But if your diet is less than ideal and thus provoking inflammation then you'll feel better when you take your NSAID, that's a fact. If you choose to make some lifestyle/dietary changes and figure out the problem then lasting results will follow.
Minimalist Footwear? Conventional Footwear? Barefoot? Orthotics?
How about the minimalist footwear idea or going barefoot – is that for you? That depends on you. The sole reason I wrote "Healthy People = Barefoot People" is so athletes can understand the relationship between their feet, footwear (or lack of), and health.
Should you wear a more supportive shoe when you're injured? It depends on your injury. Someone may need less of a shoe to help them recover from an injury while another may need a bit more. It's not uncommon for a little bit more heel in a shoe to help relieve an Achilles tendonitis issue; many have created such a problem by going the minimalist route too quickly. But also know that if you're feeling much better always wearing a shoe that provides more support that doesn't mean you just wear it all the time and never work your way to more minimalist. You're not correcting the problem if you're in that situation.
How about orthotics or even some sort of heel lift or arch support – do you need them? I can't personally tell you what you need or don't need but I can tell you that they will never correct the problem. Sure there are cases of acute trauma to the foot and a temporary orthotic brace may help relieve the pain and start the healing process. Though think how often someone is put in such a device for only a few days or weeks. Very rarely. Some doctors believe in the necessity of orthotics with specific injuries and for their "aging population". None of this changes the fact that while orthotics may provide some relief they aren't healing the problem or figuring out why the person is unable to function without such support. Instead of relying on orthotics, figure out the source of the problem so you can move unassisted again, regardless of age. Find me a truly healthy person in orthotics and I'll reevaluate my position.
Look at the Bigger Picture But Focus on the Problem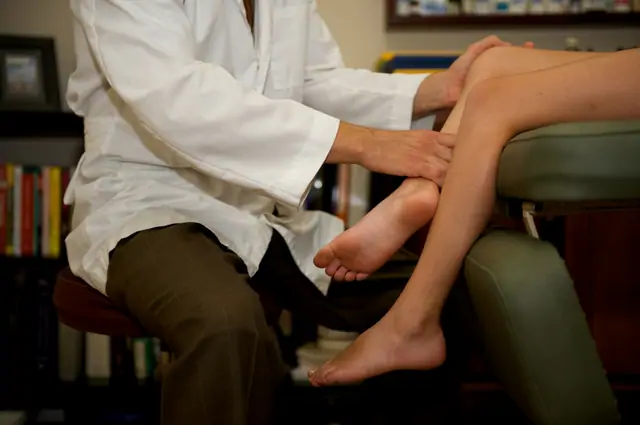 When you're injured it is fine and helpful to treat it symptomatically to some degree to lower the pain quickly, but you need to go further and figure out why the injury has occurred and that's a much bigger picture. Sometimes it's an easily solution – say if you have been wearing the wrong footwear. But often it's much more than that. Lifestyle stress, dietary inadequacies including poor food choices, and training problems are often either the reason you're injured and/or not recovering. These are also much harder to figure out on your own and address and sometimes it takes more than just eating "Paleo", more aerobic training, and lowering stress at work.
When there is an injury there are always muscle imbalances. Not sometimes – always. In my office I am constantly evaluating, testing, challenging, and treating these imbalances to figure out the best approach to an injury while correcting other problems along the way. So since you can't provide such detailed service to yourself you have to try the general (though they can be very specific) applications of such therapies as I show in the videos and discuss throughout the site.
Sometimes I am told that someone isn't improving with the "natural" approach because  they're also still doing other conventional therapies at the same time. This combined effort often doesn't help. If you're still wearing that night splint to stretch your plantar fascia and wondering why the trigger points or other non-invasive approaches aren't helping, well improvement is probably not going to happen.
Seeking Professional Help: Choose the therapist, not the therapy
As most of you know, I answer each and every question on this site personally. There is only one "cut and paste response" I have written which I use. It is this: "As I often say to people – 'Sometimes you just gotta be treated by a doc or therapist who looks at the entire body from a structural, nutritional, and emotional perspective and understands how everything is interrelated and attributing to a health issue or injury. Although there's not a lot of "us" out there, that's your best bet. A good doc will be able to get you back in a very short period of time and if not, at least explain why it may take longer.'"
So ask around and do your own research when it comes to your health. Look for an individual – a physician or therapist – who shares a similar philosophy and approach to health and fitness. If you're focused on a title or a bunch of letters after a name, you probably will not have much luck; (though the guy at the gas station giving foot rubs is probably a bad idea). The best advice I can give you when seeking someone out is to see how much time that person spends with you and actually listens to you. If it's only a few minutes and more of a question and answer session (they're asking the questions) and not a conversation especially one that at least goes a bit beyond your chief complaint, then probably a good idea to look elsewhere.
Finally, and this is the part nobody likes to have to face – don't go to a doc or use some therapy just because your insurance pays for it. Yeah I know it sucks that health insurance pays little if any for real "health care." It's like auto insurance – it doesn't pay for your maintenance, wear and tear, or when you break down. Yeah you should have a doc available when you need to see him or her for an ailment but if you're going to someone just because they take your insurance it's often a bad idea. The same goes for therapies. Would you pay the $300-$400 out of pocket for those orthotics? Would you pay hundreds of dollars for a cortisone shot or PRP injection? How about a couple thousand bucks for that MRI? Don't use it just because it's "paid for", it's the wrong approach. Not to get into the whole insurance debacle out there, but you, I, and everyone else are paying for it somewhere down the line – premiums don't jump every year for no reason. A good doc or therapist may cost you but a bad one will cost you more.
Educate yourself.
Take care of yourself.
Seek help when you need it.
Always listen to your body.