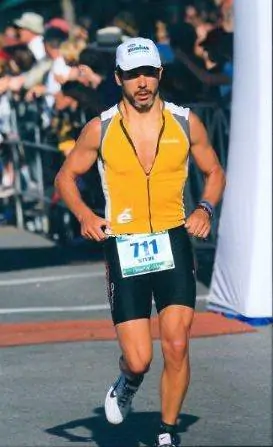 Most athletes exercise anaerobically the majority of the time, rather than aerobically. Aerobic exercise (not aerobics, such as "aerobics" class), is when you are exercising within a specific heart rate zone, (a certain intensity), which will be discussed. Please see the Sock Doc Training Principles for a thorough understanding of aerobic, anaerobic, interval training, and strength training. Anaerobic activity is whenever you exercising withing a higher intensity zone and usually whenever you lift weights or perform some type of strength training. Read on to learn how to build an aerobic base and know when to exercise anaerobically. Not only will your fitness improve like never before, but your health will too.
IMPROVING YOUR FITNESS WHILE IMPROVING YOUR HEALTH
BUILD YOUR AEROBIC BASE: For optimum health and performance it is critical to develop the aerobic system. Many athletes are not as fit as they should be because they have never fully developed the aerobic system.
It takes months, sometimes even years, to fully build the aerobic system. A healthy aerobic base is advised before implementation of any anaerobic interval training, "speed work." Doing anaerobic work  too early can lead to physical and mental burnout, illness, injury, and poor aerobic development.
Strength and conditioning may be perfectly fine and advised during your aerobic base building period.
Use a heart rate monitor along with the following methods to build your aerobic base.
HOW DO YOU KNOW WHAT AEROBIC (AND THEREFORE ANAEROBIC) IS?
YOU HAVE THREE OPTIONS:
Option 1: Use the Maffetone Method described below
Option 2: Use Joe Friel's Field Test and Zone Training described below
Option 3: Find a lab (often at a university) to perform metabolic testing (gas analyzer and/or lactate testing). These usually cost around $150 and their accuracy is somewhat dependent upon the technician skill level. For some this may be the most accurate, though most inconvenient test.
Option 1: THE MAFFETONE METHOD & THE MAXIMUM AEROBIC HR FORMULA
This method, developed  by Dr. Phil Maffetone, focuses on finding your aerobic training zone using the following simple formula and then conducting periodic tests to see when you should no longer be exercising within that heart rate zone. It is the simplest of all three options, and the one I use most to help athletes build their aerobic base.
First – The Formula:
1)
Subtract your age from 180
2)
Modify this number by choosing below:

| | |
| --- | --- |
| a. | If you have or are recovering from a major illness or if you are on medication, subtract an additional 10 |
| b. | If you have not exercised before or have been exercising but have been injured, sick, going "down hill" or have asthma or allergies, subtract an additional 5 |
| c. | If you have been exercising for more than two years and making progress without any problems, add 5 |
| d. | If you have been exercising for up to two years without any significant problems, then keep the result of 180 – your age |
Next – Put the number to work:
Now that you have your Maximum Aerobic Heart Rate number, it is important that you exercise accordingly.
Warm-Up for 10-15 minutes at a heart rate of 10-20 beats below your Max aerobic HR.
Exercise at an intensity 0-10 beats below your max aerobic heart rate, but not over.
Cool-Down for 10-15 minutes at a HR similar to the warm-up, but now with decreasing intensity.
If you plan to exercise only 20-30 minutes, your workout will be a warm-up & cool-down.
Example:
You are 40 years old, have exercised 2-3 times a week for the last 3 years but have general nagging health problems including sore knees when you run.
180 – 40 – 5(b) = 135
Let's say you have 40 minutes to go for a jog/run:
Warm-Up while increasing your HR up to 115-125 for 15 minutes
Keep your heart rate between 125-135 for 10 minutes
Cool-Down while decreasing your HR from 125 down to your normal walking heart rate
LISTEN TO YOUR HEART, NOT YOUR FRIENDS!
Many individuals starting this program will realize that they have been exercising well over their maximum aerobic heart rate and will think the number is wrong and "not applicable to them." Give it time, it will pay off. It may take months.
If you were once running, you may need to "jog," or even walk. If you come to a hill, you may need to walk up it. If you exercise with friends, you now have to exercise alone unless they are able to work out at your true aerobic heart rate. (Aerobic activity allows you to talk to friends.)
"When Can I Exercise Harder?"
Ideally you should add anaerobic endurance activity when your maximum aerobic function levels off, or "plateaus." This is determined by your Maximum Aerobic Function Test (MAF). In the following example, it is when this runner went through month #7 and month #8 with no improvement in their mile split, at the same consistent (135) HR. So in month #9, this person would start to add in some anaerobic workouts.
THE MAXIMUM AEROBIC FUNCTION TEST
| | | |
| --- | --- | --- |
| MONTH | HEART RATE | MAF (min/mile) |
| 1 | 135 | 9:05 |
| 2 | 135 | 8:48 |
| 3 | 135 | 8:22 |
| 4 | 135 | 8:05 |
| 5 | 135 | 8:00 |
| 6 | 135 | 7:40 |
| 7 | 135 | 7:24 |
| 8 | 135 | 7:24 |
| 9 | >135 | ANAEROBIC |
SOME (MORE) KEY POINTS:
Anaerobic endurance activity can be very stressful to the body; if done too soon (without an aerobic base) or too often, your health will suffer.
Anaerobic activity is performed whenever you are working above your maximum aerobic heart rate, most types of weight lifting (regardless of HR), and racing.
Do not exceed 3 anaerobic workouts per week, never back-to-back, never more than 5 weeks in an "anaerobic block", and never over 90% of your MAX HR (not aerobic max), other than during short (20 second) sprints.
Anaerobic activity increases free radicals very quickly when done too much or too often, thereby diminishing health.
Excess anaerobic activity can limit aerobic function so you're burning more sugar and less fat. Check out Sock Doc's "Warning Signs of Overtraining"
Option 2: JOE FRIEL'S FIELD TEST USING LACTATE THRESHOLD APPROXIMATION & ZONES

This test was developed by Joe Friel – a well known running, cycling, and triathlon coach. The test is explained below and then put into his formula to obtain training zones.
There are external variables to consider for this test. Your diet (such as sugar and caffeine) can impact the results of the test. For example, if you drink a lot of caffeine or ate a lot of sugar before one test and not the other, you most likely will get different results. The same goes if you are under a lot of emotional stress one day and not the other. Weather and equipment are factors too. The point of this test is to get an accurate measurement of your lactate threshold to base your training zones off of. Lactate levels are "moving targets" – they are never the same and many factors influence lactate levels. Your lactate threshold (also known as your anaerobic threshold), is the point when lactate (from lactic acid) builds up in the body faster than it can be removed – and it is occurring at a constant heart rate. Many athletes refer to this as "the red line" and a perceived exertion of 7 or 8 on a 1-10 scale (10 being the hardest).
*Note* This method is for the more advanced athlete who perhaps needs to further expand their aerobic system and/or another method is not working for them. However, please note that this test is based off your LTHR (described next) and that can change, even from day to day. Also, you're still training aerobically no matter what method you use. In this method, Zone 2 most often correlates with the 180-Age Formula.
Step 1: Determine your lactate threshold heart rate (LTHR)
To find your LTHR do a 30-minute time trial all by yourself (no training partners and not in a race). It should be done as if it was a race for the entire 30 minutes. At 10 minutes into the test click the lap button on your heart rate monitor. When done look to see what your average heart rate was for the last 20 minutes. That number is an approximation of your LTHR. Go hard for the entire 30 minutes. Be aware that most people doing this test go too hard the first few minutes and then gradually slow down for the remainder. That will give you inaccurate results. The more times you do this test the more accurate your LTHR will become as you will learn to pace yourself better at the start.
Step 2: Establish your training zones with the following guide to establish each zone for running & cycling
Run Zones:
Zone 1 – Less than 85% of LTHR – these are recovery workouts
Zone 2  – 85% to 89% of LTHR – long workouts – very aerobic – Ironman pace
Zone 3 – 90% to 94% of LTHR – high aerobic – ½ Ironman pace
Zone 4 – 95% to 99% of LTHR – race pace up to 1 hour – don't train here too much
Zone 5 – 100% and higher of LTHR – all Zone 5 are sprints, hills, anaerobic short intensities
Bike Zones:
Zone 1 – Less than 81% of LTHR
Zone 2 – 81% to 89% of LTHR
Zone 3 – 90% to 93% of LTHR
Zone 4 – 94% to 99% of LTHR
Zone 5 – 100% to 102% of LTHR
SOME  KEY POINTS:
The majority of training should be done within Zone 2, and for more experienced athletes with a well developed aerobic foundation, Zone 3 training is advised. These are your main aerobic building zones. Zone 1 is for very easy recovery days and Zone 4 should be avoided most often because training too close to LTHR is a great way to overtrain. Keep Zone 4 to those group rides/runs maybe one time a week max; racing too.
The amount of aerobic training you perform depends on what you're training for. Obviously training for an Ironman is going to involve much more aerobic activity (and much less anaerobic) than if you are training for a 5K trail run. Training for an IM might mean 15 or more total hours per week of aerobic activity while the 5K training could be as little as a few runs a week of 30-40 minutes each.
As with Maffetone's Method, you should be testing yourself every so often – typically every 3 to 6 weeks – to see your progress (hopefully not regression) – and adjust your training accordingly. Testing is done by keeping your HR within a certain range/zone over a certain distance, and seeing if your time is better, or worse.
All the previous points regarding aerobic and anaerobic training are applicable with both methods.
Again, weight lifting and other types of strength conditioning should be tailored to your specific need/activity and modified throughout your training plan.
Ready to do some anaerobic endurance? Think short and fast and warm-up aerobically at least 15 minutes first. Here's a few anaerobic workout examples:
Sprint 20-30 seconds with 60-90 second recoveries for 4-5 repeats
Run hills – find a steep hill that takes your HR into Zone 5 for 60 seconds. Recover on the way down. 4-5 repeats
After the warm-up, stay in Zone 4 for 4-5 minutes. Drop it back to Zone 1-2 for 10 minutes. Then back to Zone 4 for another 4-5 minutes.
Plyometic exercises like box jumps and power lunges are a great way to develop balance, power, speed, and your anaerobic system too.