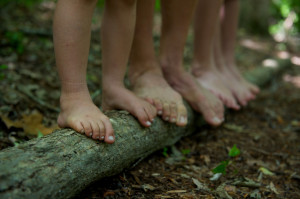 This is my recent article in the Aug/Sept edition of Paleo Magazine. Check them out for more great articles.
Humans, with rare exception, should be able to function well while barefoot from birth until death. Although sadly many people are unable to walk, run, or stand barefoot even for a few minutes without feeling discomfort, pain, or general uneasiness. Many people have essentially lost their ability to support themselves without secondary support, either because of poorly developed biomechanics or underlying health problems. What I'm referring to is a true barefoot individual – one aspect that should be, but often is not part of, a Paleo lifestyle. If you're one of those people with a closet full of minimalist shoes for every occasion and you put yourself in that special barefoot club, I'm suggesting you actually literally step out of that false sense of reality that you're giving yourself and your feet, and truly go bare.
Is Barefoot for Everyone?
I don't think there is a debate on how we were meant to run, or even walk for that matter. Humans are not meant to over-stride and land on their heels when running, which today's typical running shoe forces. Even while walking, conventional footwear will elicit more of a heel strike, extended stride, and an unnatural, inefficient push-off with the foot. A barefoot walker will land softly with a shorter stride and efficiently roll off the foot. Yes, even if you wear the thinnest of something under your feet you will change your gait and how your foot lands. But you also need to be healthy to be able to move barefoot.
Read the rest of the article here at Paleo Magazine!